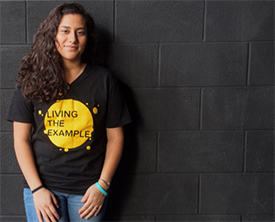 When it comes to using drugs, your friends can be either a good or bad influence.
With the number opioid overdoses increasing in their communities, teens in the Living the Example program hope to inspire their friends and classmates to live healthy, drug-free lives.
This program trains teens (aka "Youth Ambassadors") in leadership, advocacy and social media. They then bring their skills to their high schools to promote alternatives to using drugs, and uplift other student leaders.
During the year they also lead "change projects" at their schools to spread facts about substance use and healthy living. These projects can be events like art exhibits, concerts, rallies, and more.
Are you interested in 'living the example' and helping your classmates stay drug-free? Check out a few of the group's past "change projects" below to get some ideas.
An Awareness Concert. Teens at Maryland's North County High School put on a concert featuring pop music group JAGMAC. The group promoted good health and substance free living. Read more.
A Crash Simulation. Youth ambassadors at Germantown High School in Columbia County, New York created a car accident scene at their school to show what can happen you drive under the influence. The scene included a helicopter and paramedics, the local fire department using a "jaws of life" to open the car to save the victims, local police to arrest the teen driver and more. The scene was so realistic it left some students in tears. Read more.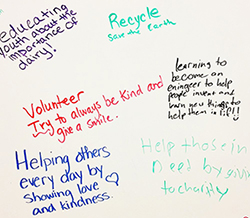 A Dream Wall. Youth ambassadors at Ichobad Crane High School in Valatie New York created a 'Dream Wall' in an effort to increase positivity in their school. On the wall, students wrote about ways they are making the world a better place. Read more. 
"LTE Anthem." Youth Ambassadors at Old Mill High School in Anne Arundel County, Maryland dedicated a whole month to talking to all of the freshmen classes in their school about the effects of teen drug use. During their presentations they played their music video PSA "LTE Athem," gave away "Living the Example" wristbands, and raffled prizes. Watch the "LTE Athem."
Learn more about the Mentor Foundation's "Living the Example" program.