Study: Most Teen Drug Use Down
C'mon – everybody is doing it. You might have heard this phrase from someone trying to get you to use drugs. Of course, you knew that that line – a favorite of your peer pressuring pals — was never true. But findings from the latest Monitoring the Future survey is even more proof.
Most drug use among 8th, 10th and 12th graders went down in 2016, according to the survey. Across the three grades, less students used cocaine, crack, heroin, MDMA (ecstasy, Molly), synthetic marijuana, Adderall, steroids and more. This has been the trend for the last few years.
% of Teens Who Have Used Any Drug (other than marijuana) During Their Lifetime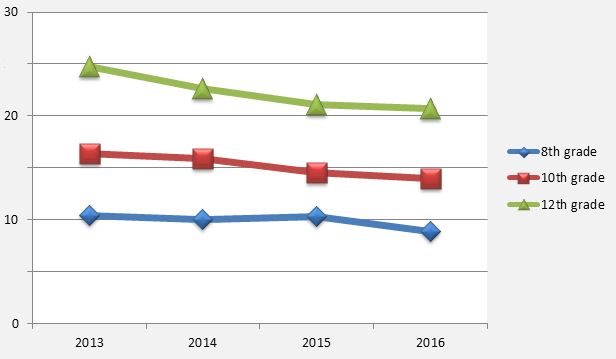 As far as weed is concerned, its use went down for 8th and 10th graders, but was the about same (only a slight increase) for 12th graders in 2016.
The use of cough and cold medicines to get high did rise a little – a little over 2 percent – among 8th graders, but not for 10th or 12th graders.
In addition, vaping and the use of e-cigarettes decreased across all of the grades surveyed.