Star Drummer Opens Up About Overcoming Drugs
(Huffington Post, May 18) Blink-182 drummer Travis Barker recently spoke out about his recovery after a deadly plane crash in 2008, and how that led him to quit recreational and prescription drugs.
After the crash, which killed four people and burned 65 percent of his body, doctors told Barker he'd have to be on prescription drugs for the rest of his life, and that he would never walk or play drugs again.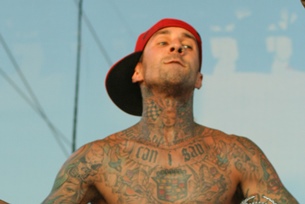 (Credit: Photo by David Guirl)
"The challenge was in my mind just to prove them wrong," he said during a recent appearance on "The Doctors." "I had to wean myself off of every drug, start playing the drums immediately, run, and then I became even healthier than I ever was before the plane accident." 
Before the crash, Barker lived the typical wild rocker lifestyle – complete with drug use and smoking weed. But nowadays, he has a few new ways to get high.
"I get a high off of boxing, and recording, recording music," he said. "I'm healthier than I was when I was 20 years old. I'm 41 now and I'm 10 times healthier." He also drums every day for about five hours. Read more.