Tennessee Teens Earn Top Prize in Video PSA Challenge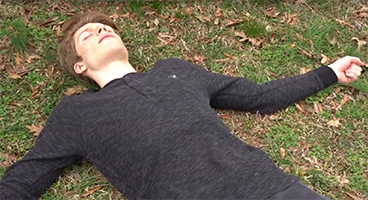 Screenshot from First Place and People Choice winning video, "What Could've Been."
(May 9, 2019) The winners of the 2019 Operation Prevention Video PSA Challenge have just been announced!
Congrats to Dalton Sherrill, Jackson Hamm, Yanely Luna, and Brian Wang of Coffee County Central High School in Manchester, Tennessee for winning first place and $10,000* for their anti-opioid PSA entitled "What Could've Been." In the touching video, viewers see how a teen's potential future – which includes college, marriage, and children – is disrupted by opioid misuse.
As part of the annual contest, sponsored by the Drug Enforcement Administration, the DEA Educational Foundation, and Discovery Education's Operation Prevention, participants created 30 to 60 second original Public Service Announcements aimed at preventing other teens from abusing opioids.
"Not only did these students make an impactful and creative PSA, they took time to include community members in it. That choice likely contributed to them winning the 'People's Choice Award'; everyone loved seeing the video spread throughout the community," said Megan Eaves, assistant principal at Coffee Country Central High School.
And because the teens received enough votes to snag the People's Choice award, they will also receive a trip for an exclusive behind-the-scenes tour of DEA training at the DEA's Training Academy in Quantico, Virginia.  
Second place and a $5,000 scholarship went to Aria Kydd of Massachusetts Academy of Math and Science in Worcester, Massachusetts for her PSA "Think Again." Third place and a $1,000 scholarship was awarded to Jake Sandvik of Cody High School in Cody, Wyoming for his video, "Wanna."  
*All of the scholarships are provided courtesy of the DEA Educational Foundation.
Watch the award-winning videos below:
 
| | |
| --- | --- |
| | Created by Dalton Sherrill, Jackson Hamm, Yanely Luna, and Brian Wang of Coffee County Central High School in Manchester, Tennessee. Watch. |
| | Created by Aria Kydd of Massachusetts Academy of Math and Science in Worcester, Massachusetts. Watch. |
| | Created by Calvin Simon, Elijah Mitchell, Hassiara McNeal, and Jessica Ohlsen from the Atlantic County Institute of Technology in Atlantic County, N.J. Watch. |