Utah Teen Wins 1st Place in Anti-drug PSA Contest
(June 14, 2018)  The wait is over – winners of the latest Operation Prevention Video Challenge have just been announced!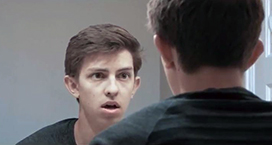 Screenshot from the Grand Prize winning video "Waiting to Die." 
Porter Christensen, of Pine View High School in Utah, won first place and a $10,000 scholarship for his video "Waiting to Die." In the video, Porter takes viewers inside the mind of one teen's decision to misuse prescription opioids.
"Having to operate the camera while being the actor is challenging, but incredibly satisfying when I see my finished product. I hope that through my writing, editing and music, my peers are able to comprehend the emotion I tried to convey," he said.
Palmer Williams of Hillgrove High School in Powder Springs, Georgia snagged second place and a $5,000 scholarship for his video "One Bad Choice." Third place and a $1,000 scholarship went to Calvin Simon, Elijah Mitchell, Hassiara McNeal, and Jessica Ohlsen from the Atlantic County Institute of Technology in Atlantic County, N.J. for their video entitled "This Isn't You."
The People's Choice prize went to Garrett Miller, Ayanna Fourte, Robert Smith and ZaQuan Muhammad of Kenwood Academy in Chicago, Illinois. for the video "Don't Do It (Music Video)."  For their efforts, the group will receive a trip to the DEA's Training Academy in Quantico, Virginia for an exclusive behind-the-scenes tour of the facility.
All of the scholarships are provided courtesy of the DEA Educational Foundation.
As part of the annual PSA contest, high schoolers nationwide created and submitted videos warning against the dangers of prescription opioid misuse and heroin use. The winners were decided by a panel of judges from Discovery Education and the DEA, community leaders, educators, and communications experts.
---
Watch the Winning Videos Below
| | |
| --- | --- |
| | Created by Porter Christensen, of Pine View High School in Utah. Watch. |
| | Created by Palmer Williams of Hillgrove High School in Powder Springs, Georgia. Watch. |
| | Created by Calvin Simon, Elijah Mitchell, Hassiara McNeal, and Jessica Ohlsen from the Atlantic County Institute of Technology in Atlantic County, N.J. Watch. |
| | Created by Garrett Miller, Ayanna Fourte, Robert Smith and ZaQuan Muhammad of Kenwood Academy in Chicago, Illinois. Watch. |